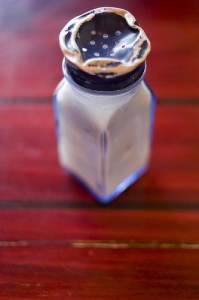 In my daily Bible reading, I've been working my way through a list in my Bible entitled "5 Minutes Reading About Women of the Bible."  It's been interesting as I've moved through the scriptures from Eve to Ruth, studying all the women in between.  This morning I read about Deborah (Judges 4:1-5:31).  Deborah told Barack to take ten thousand men and go up to Mount Tabor and defeat Sisera, who was oppressing the Israelites.  Barack told Deborah that he would only go if she would go with him.
"Very well," Deborah said, "I will go with you.  But because of the way you are going about this, the honor will not be yours, for the Lord will hand Sisera over to a woman."  Judges 4:9
Barack was unwilling to do God's will and lead the way to Mount Tabor unless Deborah came along with him.  I don't know why he felt this way.  Perhaps he lacked courage or faith?  For whatever reason, he refused to do God's work without Deborah by his side.  So God took the honor from him and gave it to someone else…a woman who otherwise would not have been part of the story.
Brad and I are currently discussing two different positions in two very different areas.  One job has very little funding, while the other job is on the opposite side of the country.  As we discuss new jobs and options for the future, we're often tempted to spend our time discussing the past.  We wonder what might have been and what should have happened.  We second-guess ourselves, and long to return and fix the past.  Did we lack courage or faith?  Did we do something to cause God to take the honor from us?
In the story of Lot's wife, looking back was direct disobedience to God's instructions:
"Flee for your lives!  Don't look back, and don't stop anywhere in the plain!  Flee to the mountains or you will be swept away!"  Genesis 19:17

"But Lot's wife looked back, and she became a pillar of salt."  Genesis 19:26

We don't know what God has planned ahead for us.  Surely there is no sin in remembering our past and learning from our experiences.  Yet, we are not called to return and rest in what it comfortable and familiar.  We are not called to spend our days longing for a past that cannot be.  We must not linger, trifle, or hanker for the things we have left behind.  In Matthew Henry's words, "Reach toward Christ and heaven, for that is escaping to the mountain, short of which we must not stop."
As we interview for new jobs for the fall, I pray that we will be obedient, faithful, and courageous in going where God leads.  May we keep reaching toward Christ and heaven, without stopping or looking back.