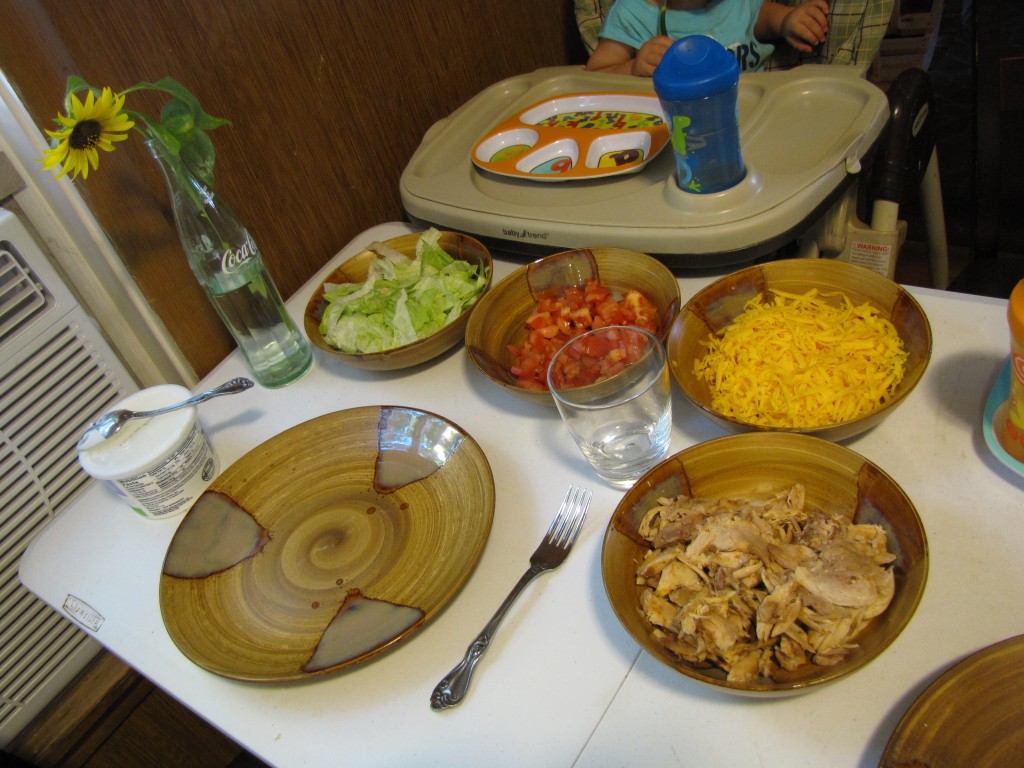 Recently I was looking for some summer crockpot recipes because our house is hottest during the late afternoon hours when I am cooking dinner.  Cooking in the crockpot keeps me out of the kitchen during that time of day, and keeps the house cool.  I found this recipe on Pinterest, from a website called Chocolate Therapy.  It's very easy, and only has 3 ingredients!  I used it for chicken tacos on 2 nights, and used it for Chicken Enchiladas (another Pinterest find) on 2 more nights. Enjoy!
Crockpot Chicken Tacos
Recipe from Tasty Kitchen
Serves: ~12 people
1 envelope Taco Seasoning
6 pieces Boneless, Skinless Chicken Breasts (I substituted bone-in leg quarters because they were cheaper)
1 16-ounce jar Salsa
Dump everything into a crock pot and give it a little stir to blend the seasoning with the salsa. You do not need to add any water to the taco seasoning. Cook on high for 4 to 6 hours or on low for 6 to 8 hours. When done, the chicken should shred easily when stirred with a fork.
For tacos, serve the chicken with soft flour tortillas, guacamole, lettuce, shredded cheese and/or sour cream. This is very versatile and can be used for enchiladas, nachos, tostadas, quesadillas, etc.
What are your favorite summer crockpot recipes?