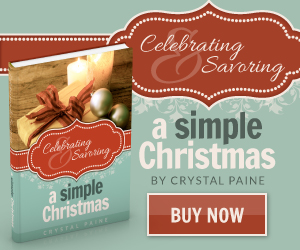 The Book:
It has only been 3 weeks since Crystal Paine of Money Saving Mom released her 21 Days To A More Disciplined Life e-Book, and today she is releasing another new e-book!  Celebrating and Savoring a Simple Christmas
breaks down your biggest holiday frustrations into bite-sized pieces.  Crystal begins by creating a budget, and then follows it up with a manageable gift list.  She gives suggestions for affordable gift-giving, cards, gift-wrap, decorations, clothing, and cleaning.  She also addresses meaningful ways to spend the holidays on relationships and virtues.  If you're looking for ways to simplify this holiday season, you will find this quick read both helpful and practical.
The Special Offer:
For the first 3 days, get Celebrating & Savoring A Simple Christmas for just $0.99!  On Friday November 16, the book will go to the regular price of $4.99, so buy it at the current low price while you still can!
The Giveaway:
I am also excited to give away 1 FREE copy of Celebrating and Savoring a Simple Christmas
!  Please share 1way that you would like to simplify Christmas for your family this year in the comment area below before midnight on November 14.  I will choose 1 winner at random from the commenters, and then e-mail you your coupon code.