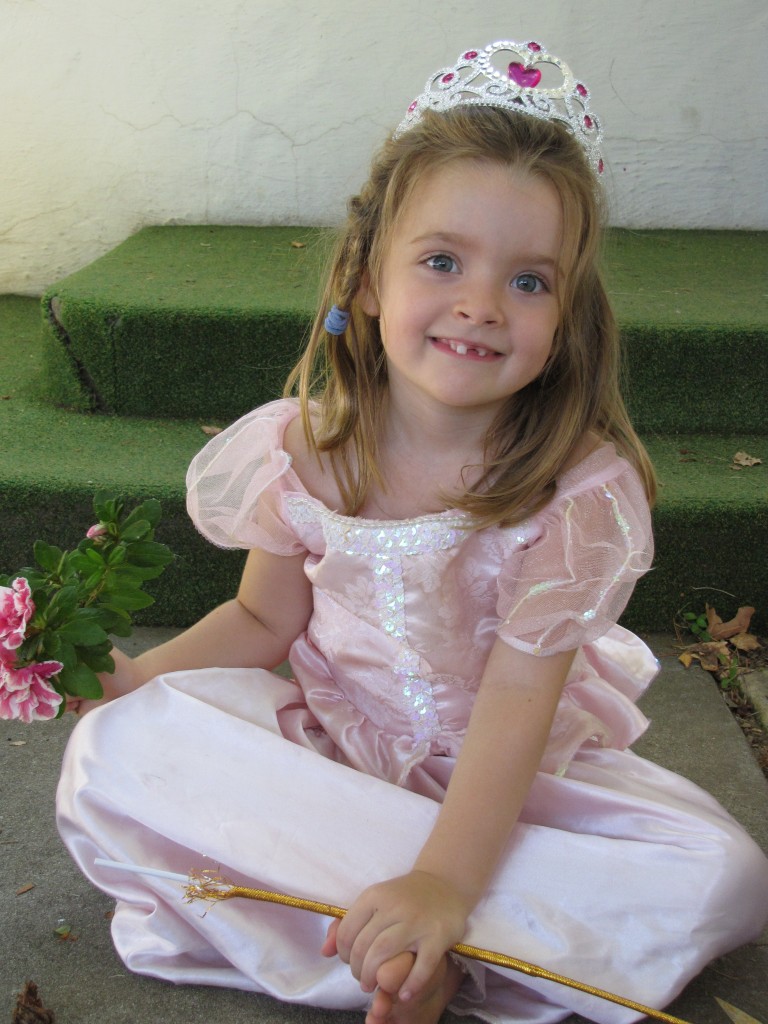 On Sunday night I made a quick run to Target for a free bottle of Lysol hand soap with a coupon that was expiring.  While I was there I noticed racks of womens' clothing marked down 70%.  So I decided to try on a few items.  As I looked through the racks, a family of five walked by me.  One of the teenage daughters remarked loud enough for me to hear:
"Once my arms are toned, then I'll be happy with the way I look."
A few minutes later I had chosen some items, and headed over to the fitting rooms.  From inside the fitting room, I overheard another young woman remark loudly:
"I want to try a different color.  I hate my hair!"
Finally, just as I was finishing up, I heard a little girl remark to the long-haired fitting room attendant:
"I wish my hair was as long as yours!"
As I left Target, I felt sad for those girls and I wondered where this dissatisfaction with our looks comes from.  Why do we long to look like other women, and not ourselves?  Will we really be happier when our arms are toned, and our hair is a different color or a different length?  Why do we begin to be dissatisfied with our looks at such a young age?
As I changed in and out of my clothes in the fitting room, I couldn't help but notice my own body.  In my late teens and early twenties I was a lifeguard, I worked at summer camps, I did sit-ups every day, and I ran a marathon.  Today my body shows the wear and tear of 3 kids, and far less time spent exercising and working on my tan.  At 32 years old, I've spotted a few grey hairs, wrinkles, and things jiggle where once there was no jiggle.  I spend very little time on my appearance each day, preferring to go without make-up or jewelry.  The only attention my hair gets is a shower and a braid to keep it clean and out of my face.
Why did the conversations I overheard catch my attention?  It's because I have a 4-year-old who watches my every move and listens to my every word (even if she chooses to disobey it).  When I hear the words of other young women, I wonder, "What do I want Naomi to hear me saying?" and "What do I want Naomi to think about herself?"
I want my little girl to believe that she is beautiful, and that her mother is beautiful.  I want my little girl to be content with how she looks now, instead of dreaming of a day when she will finally be beautiful enough to be happy.  I don't want my little girl to hate her appearance, but to be grateful for the person God made her to be–inside and out.
I wish that I could protect Naomi from all the voices of our culture that try to tell her what beauty is, but I can't shut them out completely.  What I can do is change what I say, and what words come out of my mouth.  I want her to overhear me valuing my age, health, and appearance instead of wishing I looked like someone else.  Because I know that in turn, she too will value her beautiful self.
"Charm is deceptive, and beauty is fleeting; but a woman who fears the LORD is to be praised."  –Proverbs 31:30
"Your beauty should not come from outward adornment….Instead, it should be that of your inner self, the unfading beauty of a gentle and quiet spirit, which is of great worth in God's sight." –1 Peter 3:3-4