When we first moved into our house (which we rent) in September 2011, there was a bus stop in our backyard.  I was not overly impressed with the concrete and broken wood structure, or the words "LSD", "Coke", and "Cocaine" carved into the Bireley's Soda advertisement.  However, with little other seating in our backyard, it stayed.  Last week, we were planning a mission trip reunion party in our backyard, so I decided it was time to give the old bus stop a fresh coat of paint.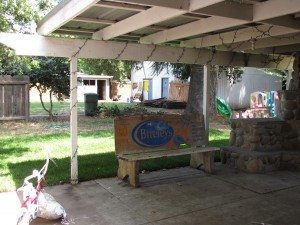 As you can see, it looks a lot cleaner and brighter with a fresh coat of paint!  I "shopped" our garage for the "free" can of white paint that I used to paint it.  It still needs one more coat of paint to cover the previous design.  I'm thinking about projecting and painting a Young Life logo onto the front and back of the bus stop.  I also got to experiment with some drywall compound (to fill in the carved words), and my new orbital sander (my Christmas gift from Brad!)  If you look closely, you can also see our new fence going up in the background.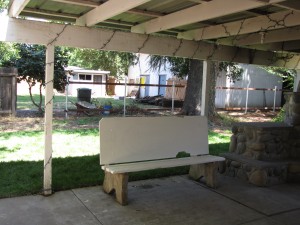 What DIY projects have you been working on lately?