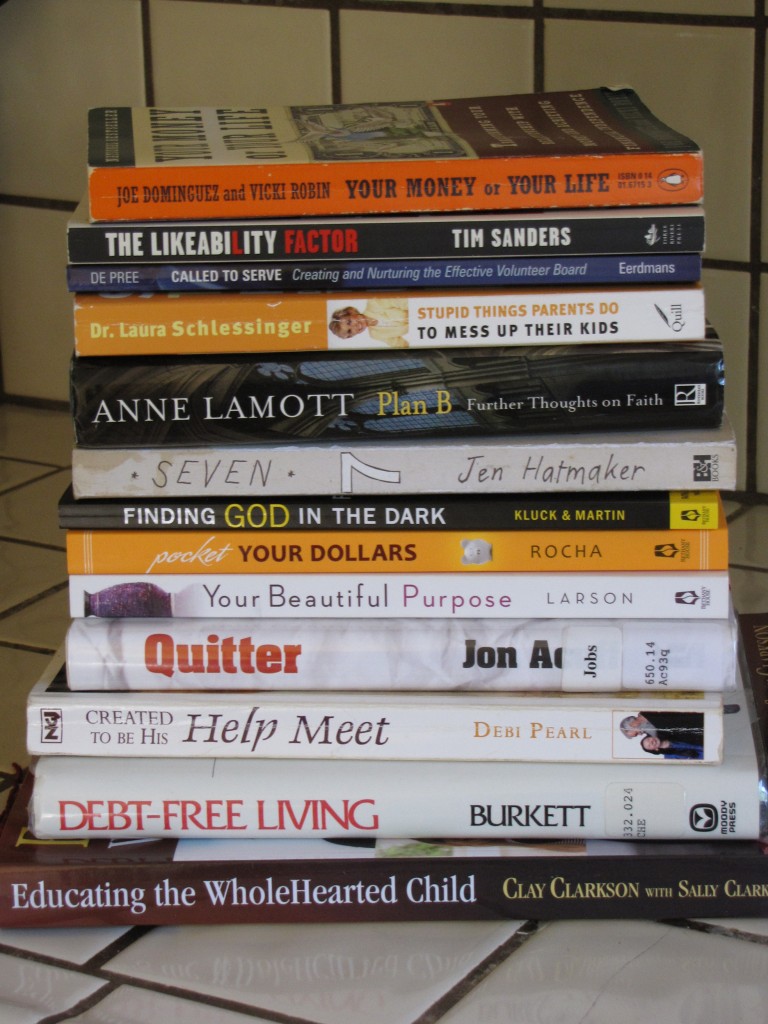 I love to read.  I've read 15 books since Thanksgiving, which includes 4 eBooks and 11 regular books.  I'm in the middle of reading 3 more books.  My idea of the perfect vacation would include lots of time for reading in a peaceful and beautiful location.  However, reading can become a very expensive habit if you're paying retail prices for your books.  Here are 6 ways I get my books for free, or almost free:
1. Library-Need I say more?  Last week I got a phone call from our local library that they'd found Jon Acuff's book Quitter in San Francisco, and through inter-library loan they had it waiting for me at the front desk.
2. Borrow–Called to Serve: Creating and Nurturing the Effective Volunteer Board by Max De Pree is one I borrowed from my husband.  You can borrow from friends, relatives, and church libraries.  Just remember to return borrowed books when you're done!
3. Gifts–Created to be His Helpmeet by Debi Pearl was a wedding gift from a good friend 7 1/2 years ago.  I often ask for books for my birthday or Christmas.
4. Bethany House-Last year I signed up to review books for Bethany House publishers, and I've received a number of free books in exchange for reviewing them.  Finding God in the Dark (Kluck & Martin), Pocket Your Dollars (Rocha), and Your Beautiful Purpose (Larson) are all books I received free through Bethany House.
5. Library Used Book Sale-Twice a year our library has a book sale in which they charge by the inch.  You select your stack of books, take it to the cashier, and she measures its height with a ruler.  I usually come home with a large stack of books for just a few dollars.  Your Money or Your Life (Dominguez and Robin), The Likeability Factor (Sanders), Stupid Things Parents Do to Mess Up Their Kids (Schlessinger), Plan B: Further Thoughts on Faith (Lamott), Seven (Hatmaker), and Debt-Free Living (Burkett) all came from our library's used book sale.
6. Amazon-If you can't find a book anywhere else, you can usually find it on Amazon for a fraction of the price you'd pay retail.  Educating the Whole-Hearted Child (Clarkson) is the only book I bought new in this pile.  I also make money by selling my used books on Amazon to other readers.
7. eBooks–Money Saving Mom and other websites often posts free eBooks, and I download them to read later on my laptop.  This is how I read Pajama School: Stories from the Life of a Homeschool Graduate (Wickham), To Tell Your Time (Andrews), Dave Ramsey's Guide to Budgeting, and Frumps to Pumps (Mae).
How do you find inexpensive books?