When our family moved to California from Maryland, we knew that one of the primary ways that we could save money was by finding an affordable place to live.  We planned on having more children, so that meant fitting a lot of people in a small space.  When Brad saw our house, he knew it was the perfect fit for us.  It has 3 bedrooms, 1 bathroom, a garage, trees, a fenced-in backyard, a fire pit, and it's only 2 blocks from the high school where he works.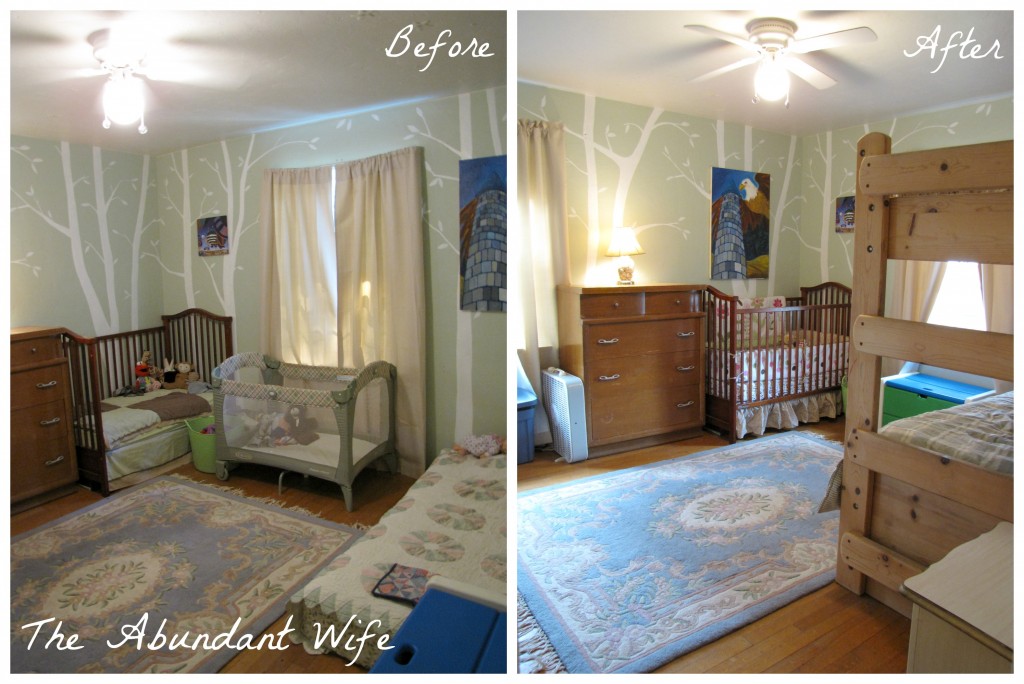 At the end of 2012, Brad moved everything from his office across town to our house.  All of his office storage is in our garage, and he began working exclusively out of our home office.  So when our third child was in early 2013, we knew she would eventually need to share a bedroom with her older sister and brother.  During her first two months we wheeled her bassinet back and forth between our master bedroom and the office.  Eventually she upgraded to the pack-n-play in the kids' room, where she slept until she was almost 9 months old.

I had been daydreaming about bunk-beds for years, but we had to put off the purchase until it became a necessity.  In 2013 we bought a third car-seat, paid off the hospital delivery bill, paid off both of my surgeries, and put new tires on our truck before I could finally shop around for bunk-beds.  I knew exactly what I wanted, so when I saw these bunk-beds (with mattresses) on Craigslist for $250, I was sold.  We borrowed a trailer and trailer hitch from a friend, and drove down to Sacramento with cash in hand.

Transporting bunk-beds is not as easy as you might think.  We had to dismantle them in Sacramento, and reassemble them in our house.  As with many "used" purchases, we had a few hiccups along the way.  One of the drawers broke in transport, and a couple of the bolts were stripped from dismantling and reassembling the beds.  Eventually I had to repair three out of the five drawers with wood glue and screws.  Still, because the bed is solid wood, we can make repairs as needed.

Purchasing bunk-beds for our kids' room definitely increased the floor space and storage.  Saving our money for  bunk-beds was definitely the right move for us financially.  Our crib was a gift from my mother-in-law, our pack-n-play was a gift from my parents, our bassinet was a hand-me-down from a friend, and Naomi's mattress was once Brad's.  So we waited more than 4 years after the birth of our first child to purchase beds for our kids.  We are more than satisfied with our purchase, and the kids love their new beds.  They were worth the wait!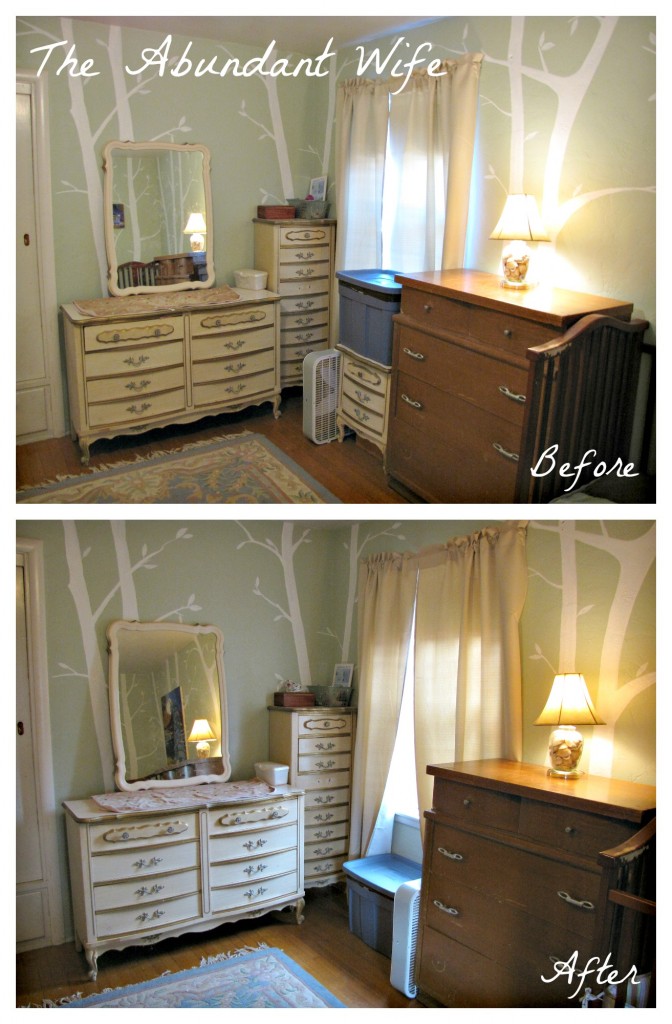 Have you ever saved up to pay cash for a large purchase?  What did you buy, and what did you learn in the process?