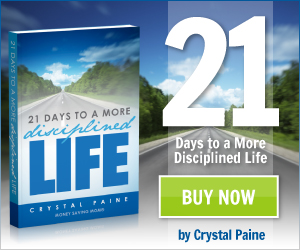 The Book:
As most of you know by now, I am a big fan of Crystal Paine at Money Saving Mom.  That is why I am so excited to be announcing the release of Crystal's newest e-book, 21 Days To A More Disciplined Life today!
In November 2011 I joined Crystal in her journey toward a more disciplined life.  Her articles have influenced my goal-setting and writing here at The Abundant Wife as I have sought to instill more self-discipline in my own life.  I began this year by creating a year-long plan of monthly goals, and I have periodically added to those goals when I recognized other areas for growth.
21 Days To A More Disciplined Life will help you to take your big dreams, ideas, and mega-projects, and break them down into bite-sized pieces.  If you often feel overwhelmed by the things you hope to accomplish, or give up every time you try to transform your life, then you will enjoy this book.  Each day of this e-book includes 3 "homework" assignments that will help you to accomplish a series of small changes and one mega-project by the end of the month.  This e-book will also help you to prioritize, expose & conquer obstacles, stop making excuses, get the job done, find accountability, and stay motivated.
The Special Offer:
For the first 3 days, get 21 Days To A More Disciplined Life for just $0.99!  On Friday, the book will go to the regular price of $4.99, so I would buy it at the current low price while you still can!
The Giveaway:

I am also excited to give away 5 FREE copies of 21 Days To A More Disciplined Life!  Please share 1 way that you could use more discipline in YOUR life in the comment area below before midnight on October 26.  I will choose 5 winners at random from the commenters, and then e-mail you your coupon code.